Raised floor for indoor
All the components of raised floor system which include panel, top finishing, bottom finishing, edge and structure have specific functions. The choice of panel, CHIPBOARD, CALCIUM SULPHATE, METAL, ENCAPSULATE, BRICKSTONE e BRICKTILE and the choise of the type of superior finish (Laminated, Resilient, Porcelain Tile, Parquet, Marble and Granite) allow for diverse project requirements.
Raised floor for outdoor

The raised floor system for outdoor is constituted by a set of modular panels that rest on fix or adjustable support. Petral has two types of outdoor panels: BRICKSTONE OUTDOOR (STONE PANEL) and BRICKTILE OUTDOOR (CERAMIC PANEL). The panels are not trimmed and dimension 600 x 600 mm, are placed on supports in polypropylene with spacer lugs that allow the smooth flow of water.
With this system it is possible to inspect at any time the plant placed under the subfloor, removing easily the modular panels. In addition, small open joints between the panels allow rainwater to flow regularly in the gap that is created in the basement. A further advantage of this raised flooring system is represented by the speed of the installation, that allows to have lower costs and less discomforts on the job site.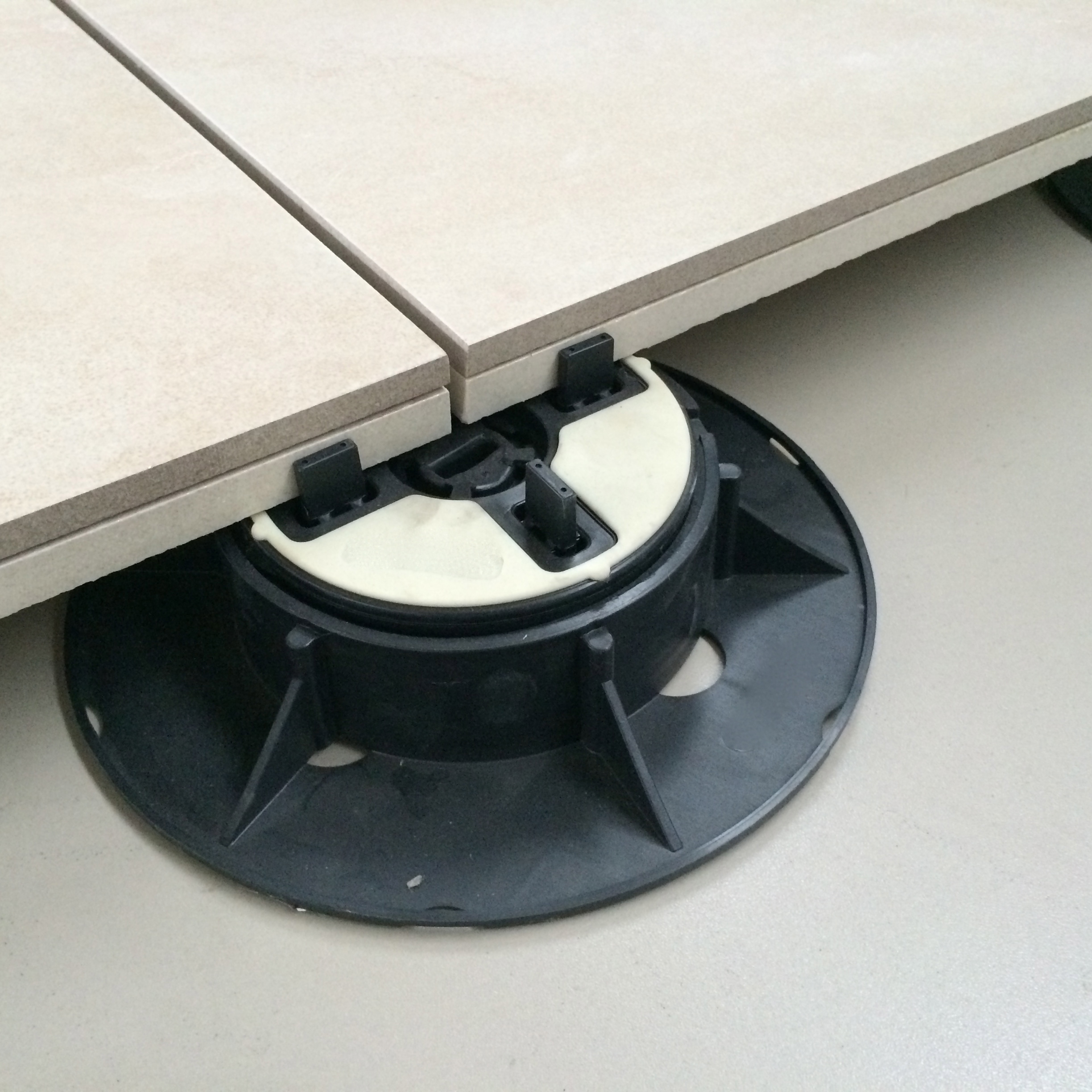 ADVANTAGES OF OUTDOOR SYSTEM

QUICK WATERFLOW The small joints between the panels allow rapid drainage of rainwater through the slope of the slab.

EXCELLENT EXPANSION ABSORPTION Non-adherence of floor panels and underlying media allows to absorb expansions and the structural movements.

HIDING OF PIPES AND PLANTS The void between the flooring and the underlying membrane allows the passage of pipes and cabling easy to inspect thanks to the easy removal of panels.

SPEED 'OF INSTALLATION Speed of the installation means lower costs and less discomforts on the job site.

BETTER THERMAL INSULATION The void between the flooring and the underlying membrane favors a constant passage of air that allows a greater thermal insulation and increase the duration of the waterproof layer.

LOW WEIGHT ON STRUCTURE The system allows a significant weight reduction on the structure thanks to the elimination of the concrete screed with a consequent reduction in costs.

REUSE AND RECOVERY SYSTEM The whole system is recyclable in fact you can remove and recover both the flooring panels that the underlying supports for reuse if necessary in other situations.



For further technical, commercial issues or get information about price of our raised access flooring CONTACT US